IPMA Basic Certification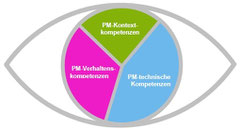 An internationally recognized Certificate for current project staff and future project managers.
This training is the first step in building a career as a project manager in industry or in research organizations.
The workshop is primarily presented via graduate schools or companies that want to professionalize their scientific staff in management abilities.

Perfect for...
In Graduate Schools: PhD students and PostDocs.
In Companies: scientific experts who want to improve their abilities in managing projects
Who can join...
All who are interested in managing professionally.
Duration and group size
4-day workshop
Part 1: 2-day simulation of research project in industry
Part 2: 2-day intensive training to prepare for the exam. 
For the first part the number of participants is limited to 12. In the second part, 24 participants can join. 
Language
All workshops are held in English. Exam and Certificate in English. Official GPM/IPMA information available only in German.
Benefits
You learn standard project management tools and techniques so that you are able to run your own first project or to contribute professionally to a project team
You learn what it means to be a project manager in the simulation project and that helps you to decide if a career in management might interest you.
You can improve your cv with an internationally recognized certificate.
Material
This workshop includes:
a complete 90-page script to prepare for the exam (no further literature required)
flash cards for learning
practice exam
Trainer
Dr. Karen Dittmann, promovierte Agrarbiologin, Akkreditierte Projektmanagement-Trainerin (GPM), zertifizierte Senior-Projektmanagerin (IPMA–Level B), Coach (DGfC)
Dates and expenses
Only onsite training scheduled. Please ask for open seminars and fees.
Leitfaden Basiszertifizierung der GPM Stand 5.11.2014
Leitfaden_fuer_Basiszertifizierung_ZB01_
Adobe Acrobat Dokument
577.6 KB
Prüfungsgebühren PM-Zert Stand 9.2.2012
Gebuehren_Basiszertifizierung_AB01_NCB3_
Adobe Acrobat Dokument
85.0 KB
Sorry, only information in German available. You get more information about the Basic Certification here...